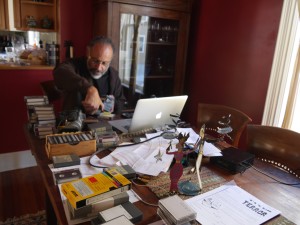 Great news. We are in the Post-production phase for "Before the Trees Was Strange". In August I travel to Boston to finally finish the film after three years of continuous hard work. While this journey has been immensely rewarding and eye opening, its also been the most difficult project I have taken on. I have had an amazing editor, Fulbright Scholar Indrani Kopal, without whom this film would not be where it is today. So I'm excited to send you this update. I know, its a bit later than I thought. Who knew that I had over 700 hours of footage to work with or that the story would end up as complex as it has. As you know the project has taken this long mostly due to budget constraints and the complexity of the story itself. But recently we have received some generous contributions that have allowed us to get to this stage of the film.
Thank you all who sent in contributions to show your support and belief in this project, to those who were beyond generous in making major donations and to all of you who originally supported my dream of making this documentary. Without you this could not have happened.
Once the film has been completed in August we apply to film festivals. There will also be a very strong web component to accompany its release and I'll keep you posted as we get the series launched. You can see its progress here on http://beforethetreeswasstrange.com.
The rough cut of the film has successfully generated great interest and discussions which will continue online as I encourage people to contribute their own family stories and experiences of race in their lives through our on-line portal. We also plan for a very strong educational component, providing discussion tools for high school, college and university settings to generate more dialogue and reflection on a major issue that doesn't seem to go away.
Keep an eye out on http://beforethetreeswasstrange.com for updates, for additional clips of things that did not make the final cut and other news as the film gets out in the world.
For me, it is crucial and important to personally expand this world wide discussion about race and I am forever grateful for your help in making this possible.
Thank you again for all your support.